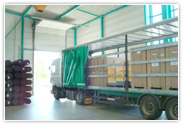 IBTech GmbH provides effective solutions for auto, avia and container transportation to the Russian Federation and other CIS countries.
The Company's staff is skilled to handle organizational questions professionally and perform logistics operations in effective way.
Key points of our transport logistics service are:
Efficient delivery organization and logistics management;
Optimization of delivery routes and methods;
Cost-effectiveness;
Delivery on time to the indicated place of destination;
Enhanced control over safety conditions during transportation and security of goods.