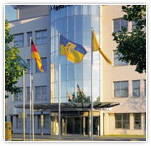 IBTech GmbH is a provider company for high-end power quality solutions of power supply systems and their elements. Many years of accumulated experience and strong development enables IBTech GmbH to offer high-quality products and services that strengthen clients market position. Through a full range of products including AC and DC power systems, Gen-sets, batteries, air-conditioning we are able to offer power protection solutions that perfectly meet requirements of our customers in CIS countries.
Bridging European manufacturing vendors to our customers and business partners within CIS countries is one of the core activities of IBTech GmbH. Working in a close co-operation with the vendors and implementing European business ethics, high integrity standards and best practices at all stages of business processes we ensure steady growth and further development of the business in CIS area.
As a Logistics Center of Excellence IBTech GmbH supports business partners and end-users in CIS countries by creating transparent, confident and stable relationships with European vendors. We guarantee accurate on-time deliveries from our international vendors to their customers in CIS countries.
Working with international logistics providers and operating own customs stock in Leipzig, we are able to offer our customers prompt, reliable and cost-effective logistics. Careful expertise in the area of customs clearance allows our customers to avoid any potential problems at the points of destination. This, in combination with a strict financial control provided by German auditing company Dr. Senger und Senger, makes IBTech GmbH ideal partner for its CIS customers.
We are working hard on improving and expanding our both product and service offering. Open approach and drive for efficiency provides additional advantages of new opportunities and flexibility to our customers.
Our mission is
providing high-quality power supply solutions and efficient service for the benefit of our customers